I'm studiyng how can be controlled a subaru DCCD (and maybe others...) electronic differential. The differential is a simple coil, energized by a 100hz signal with variable duty. More is the duty and more is the lock of the differential.
On the OEM system the control can be manual (the driver select via a 6 position switch the lock) from dc 0% to 100% dc, or "auto". In "auto" the ecu use the following sensors: accelerometer/yaw, vss, parking brake, brake switch, tps and rpm for try to determine the best suited lock for the differential. Seem that also uses the vss of the single wheels to determine the slip rate of fwd vs rwd wheels.
Mosft aftermarket controllers uses a map similar to this: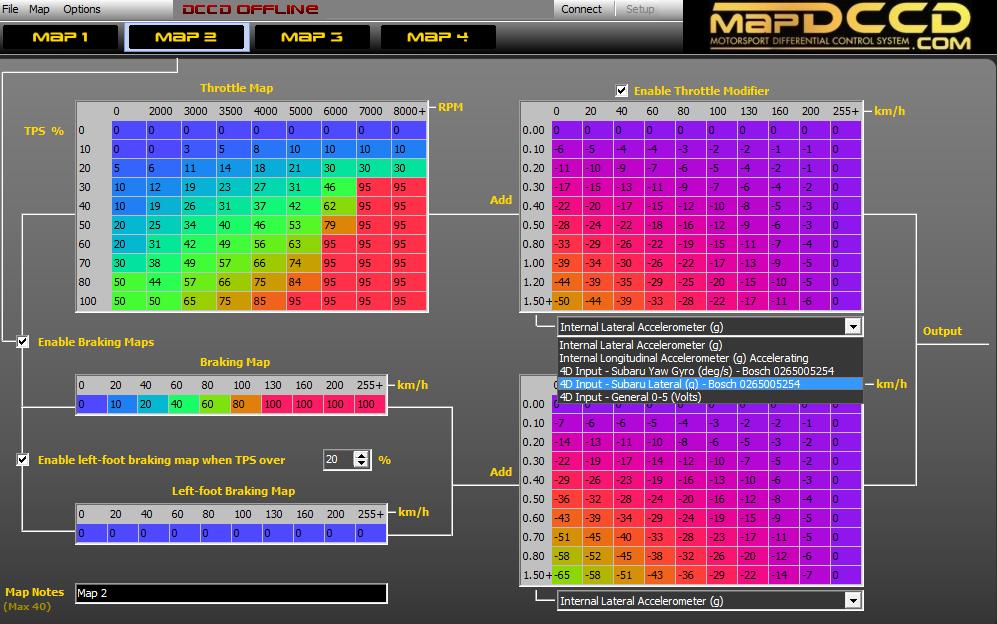 where you input simply a dc in the main map, then there are other sub-maps as "modifiers" of the main map.
when the parking brake is pulled the dc goes to 0.
Can be implemented as a spare can controller, but would be nice to integrate it on the iox as it has already all the info needed (via direct connection to sensors or via can)...
Will be possible?
Thanks!